Colleges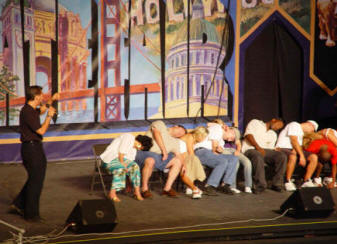 Mind boggling Comedy Hypnosis Shows For Your Next Campus Event!
Why book Justin James for your College?
ONE REASON!
WE WILL ROCK THE HOUSE DOWN!
Every year you see the same show, same guy same stuff..... BORING!
Time you brought in the wildest show on the planet! Suitable for all ages (21+ shows available)
this show has been considered "An E-Ticket Ride Through The Mind" A complete departure from your normal Hypnosis show Justin James and The Hypnosis Company have crafted an amazing comedy masterpiece that is nonstop laughs from start to finish! Set to high intensity music, this show will have your audience on the edge of their seats and rolling on the floor!
Watch the Videos!
Watch the Videos and you will see why this is one of the most amazing shows in America!