Safety

Hi this is Justin James and before I say anything else I want you to understand that I make ZERO dollars promoting industry safety. That's right Zip, Zilch, Nothing. Now will we charge money for safety classes at some time in the future? Probably.... However for the last 3 years we have offered Safe on Stage for free..
If you are a consumer reading this material I am glad you are here. The most difficult challenge you are going to face in booking a hypnotist is the challenge between price and quality.
It does not matter what the product is, the cheaper the price, the lower the quality. Now you may be looking at spending 500.00, 1,500.00 or 5,000.00 however no matter the price tag getting a product that does not perform well or that causes harm to you, your family ,or possibly your friends and coworkers comes with a much bigger and sometimes costlier burden.
"It does not matter what the product is, the cheaper the price, the lower the quality"
The answer is YES Hypnosis is real and you should care a lot! Many people inappropriately think that Hypnosis is like magic or mentalism and that since it is all fake that it does not matter who you hire "all hypnotists are the same".
Nothing could be further from the truth. Hypnosis and the business of being a hypnotist is a real profession and just like any other profession it is filled with experts, amateurs, hobbyists, and crackpots.
Now before I go on hiring a quality Hypnotist can be an amazing choice for your headline entertainment and can be a massive draw for your event.
"Applied clinically, hypnosis is a very powerful therapeutic tool. "
Hiring a poorly trained hypnotist though not only will cost you money it can also be dangerous. There are no mandatory educational requirements. Nor mandatory stage training required to hang out a shingle and call yourself "The Worlds Greatest Hypnotist" many stage hypnotists have had 3 days of training and it is more common that they did a weekend course then took out a loan or maxed out a credit card built a inexpensive website. purchased some marketing material and are now marketing themselves..
In the industry, the problem became so bad that insurer's began declining coverage for Stage Hypnotist's, Only do to the actions of a few was the industry saved from irreparable damage and today a mandatory Safety course is required of all stage hypnotists. The primary course work and safety material can be found at www.safeonstage.com.
Hiring a properly trained Hypnotist is your responsibility and having information to make a better choice is the goal of this page.
What to look for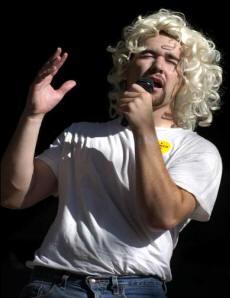 When you are shopping for a hypnotist you want to look for several things. Since you are most likely reading this on the internet it will be assumed that it is the medium you are going to use when shopping for an entertainer.
Press Kits are a great way to look at professionally produced media that a artist has paid for to showcase their material. With the high cost of printing and the rise of the information age (a single press kit can cost upwards of 20.00 and must usually be purchased in bulk quantities of 500 to 1000.) They include a folder, DVD, press sheet & possibly stage requirements.
Today most professional artists rely on a E.P.K. or Electronic Press Kit essentially this is the same thing just in digital form.
They say first impressions are everything and the first thing you are going to see is the artists web page. Now I am a bit nitpicky here however you are hiring someone and their website is like a resume. You would not hire someone with a terrible resume yet people hire hypnotists all the time with poor or non-existent promotional material and then say Hypnosis is fake or that stuff is bogus when the poorly trained hypnotist that they hired failed.
So what should you look for?

Is the Website well deigned and easy to navigate? This the first big giveaway that you are not working with a professional if the site is poorly done or if the links don't work on the pages.

Does the website have promotional video? If you are looking at an artists website and there is no promotional video then DO NOT HIRE THE ARTIST. It is mandatory today that artists video tape their shows for liability purposes. A promotional video is your easiest way to gauge the quality of the artist you are inquiring about.

Watch the video! Is it rough hard to hear and difficult to view or is it look professionally done well edited and content appropriate for your event? This seems pretty apparent however poor quality promotional video is a very good indicator of the quality of performer you are looking at potentially hiring.

Does the Hypnotist have a list of clients or venues he or she has performed at in the past?

Does the hypnotist have any education training or years in business posted on his site?
These are just some of the factors that you should consider when hiring a hypnotist for your next event.
Is there really a difference between one hypnotist and the next?
Many Stage Hypnotists today have received their training from one of only a few schools and little to no stage or theater training. They do a show that is copied out of a manual and rehearsed. This in turn has created rampant artistic stagnation in many areas. Yet professional Stage Hypnotists practice their craft and art, constantly take classes work on stagecraft and show to differentiate themselves and constantly improve their show.
Show ratings
What do these have to do with a hypnosis show? No one is going to worry about Bob from accounting

barking like a dog! The fact is though there is a huge difference in ratings and you should be aware when you book your hypnotist of what type of material you want performed in your venue.
EXAMPLE
Rated G Guy loses his belly button.
Rated PG Guy loses his belly button and finds it attached to his butt.
Rated PG 13 Guy loses his belly button it is stuck to someone else's butt and it is talking smack about his mother.
Rated R Guy loses private parts and is using rather foul language in his attempt to find them.
Rated NC-17 Guy decides that his chair is a sexy date who he takes home and has his way with.
As you can see here there is a wide range of possibility's between show ratings make sure to tell your artist what you expect prior to performance.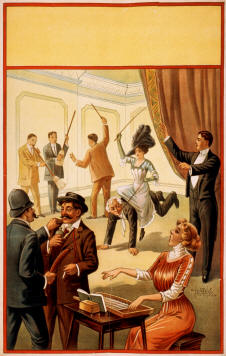 Types of Shows
There are several different types of hypnosis Shows.
Family Shows. These are perfect for events where young children and grandparents will be present. Safe for everyone. Rated G
High School Shows. These shows are as the name implies for High School students and special care need to be taken that you are hiring a performer that is good with High School kids. An entertainer in this type of environment needs to keep careful control of not only his or her content but the content from the Teens themselves. These shows are usually rated PG
College Shows. College Shows can be rated anywhere from G to NC-17 however we recommend not doing anything more adult than PG13 for Freshman orientation shows.
Corporate Shows. A corporate Hypnosis show takes a entertainer that is not only a good hypnotist but well versed in entertaining difficult crowds. A good corporate Hypnotist is hard to find as they have to be consummate showmen. These shows are Rated G/PG and are very content sensitive.
Casino Shows. Again like a corporate Hypnotist a casino show needs to be more than entertaining. People want to be entertained and so the Hypnotist is question must be a good artist in order to perform in this market. Casino shows can be Rated G to NC-17 depending on the nature and time of the show.
Nightclub Shows A Hypnotist performing in a nightclub must not only dress the part but be able to interact with all ages very well this is again a different type of performer. Most shows in a Nightclub setting are Rated PG13 or Rated R.
Private Parties. Many Stage Hypnotists starting out get work doing these although these can be very difficult for an inexperienced performer Rated ????
Street or demonstrational Hypnosis. This is a form of show done in random settings or on the street towards a crowd. Material is usually Rated G very few performers are any good in this setting and if not well trained it can be a dangerous setting to perform in.
References
The Last time someone asked you for a reference who did you give them? Seriously you are not going to intentionally give someone a bad reference. Neither is an artist. To make matters worse other artists today will call an artists references and offer to do a show for them for a lesser cost. Any time you see references from a company today it is very rare you will see full name or contact information.
That said a well known Artist will have a list of venues that they have performed at and quotes from satisfied customers, videos & quality promotional material.
Insurance Requirements
There are no steadfast rules on insurance requirements however we suggest that you ask the performer to provide proof of existing insurance coverage with an A rated carrier. Asking for a certificate of additional insured is something every venue should be in the habit of.

Accidents do happen, people fall, the list is long and people are sue happy so insurance is necessary to protect venues and performers.
The recommended insurance is 1,000,000.00 in liability for the performer while on stage performing and covering them and you against mishaps.
Your requirements as a host
As a host you will most likely be required to provide a stage or stage area, chairs, sound equipment, and possibly microphones. Each artist has their own specific requirements that will be included in their contract and rider.
Your liability as a host
You as an event host are still liable for your event, your patrons, and the actions of your patrons the facility in which you hold your show, the safety of your stage, foods or beverages including alcohol, slips and falls on the property and other liability issues for which you should have insurance for.
(This short list is merely for information purposes and does not take the place of finding and acquiring proper liability coverage for your event nor is the author of this page an insurance agent or hold him self out to be one in any state or nation.)